The auspicious rakhi thread has an important role to play in the siblinghood celebration "Raksha Bandhan". This is the day on which brothers and sisters wait to showcase their love. While brothers wait eagerly for the colourful thread to be tied on their wrist, sisters, on the other hand, wait to demand for the special gift.
This is a day on which the long-standing tradition of rakhi tying takes place. The rakhi thread stands for sibling love. It is said to be holy, which protects brothers from any sort of harm and evil spirit. Come Shravana month and sisters start looking for different types of rakhi threads for their brothers.
Previously, there were no fancy rakhi threads but the ones in mauli form. Now, with different types of rakhis available online and offline, it has become really challenging to buy a specific one. With traditional rakhis, there is a wide variety of other rakhis as well which showcase perfect blend of modern and traditional designs.
Hand Picked 28 Types Of Wow Rakhis For Your Loving & Caring Brothers
Here are the most beautiful types of rakhis for you. You can find them in the market or on online stores to shop for your brother this Raksha Bandhan.
1. Designer Rakhi- It is one of the best auspicious threads around. As the name suggests, it often comes in a designer makeover hence the name designer rakhi. The designs vary as per one's likes and dislikes. It comes in both minimalists to luxurious designs.
2. Kundan Rakhi- This thread is said to be a potpourri of vibrant kundans. The vibrancy is so eye-catching that this rakhi has become popular among sisters. The attractive designs, patterns and colours add to its beauty. It often comes with a bedecked centerpiece strikingly attached to a strong thread.
3. Bracelet Rakhi- As in today's day and age, brothers have become the staunch follower of modernism; they demand a modern rakhi. The bracelet rakhi is perfect for them. It serves as jewellery and as an accessory as well.  It is perfect for brother who wants to wear his rakhi for many years to come.
4. Resham Dhaga Rakhi- As the name suggests, it is one of snuggly, luxuriant, and silky smooth rakhi. The holy thread is made of silk resham which is considered luxurious. With decked centerpiece, adorned threads, the rakhi seems to be great for brothers. It features the charm of real craftsmanship.
5. Golden Rakhi- As you can figure it out; this auspicious rakhi comes in the shimmering overtone. The gold metal used to make this rakhi adds to its beauty which every brother loves to adorn his wrist with. In the market, you can find pure gold rakhi and gold-plated rakhi both. It depends on one's budget, which rakhi she would like to have.
6. Mauli Rakhi- It is one of the oldest rakhis. The auspicious thread that we use during our religious celebration has taken the form of rakhi. This is a very simple thread that retains its charm even in today's day and age. The sot and silky threads come in the colour of yellow, orange and red. Often it comes in a simple look, but some of the mauli rakhis can be found in modern look as well. With or without embellishments, it has always been on top of a sister's list when it comes to finding a rakhi thread.
The thread can be found in loosen, braided or twisted form which is tied simply on the hand on the auspicious day of Raksha Bandhan.
7. Fancy Rakhi- Well, in today's era when brothers have swag to show off, a simple rakhi isn't going to be his bait. Then what to choose? Of course a fancy rakhi! It comes in modern charm with minimal embellishments, hence, the name fancy rakhi. For a millennial brother, a fancy rakhi is going to be the perfect gift. The centerpiece of this rakhi is least decorated and is made of a silken base. The thread going to the edges also don't have any sort of decoration, but simple roped or braided pattern.  
8. Rakhi Threads- The ones made of only thread are called rakhi threads. These look same as mauli rakhi, but a bit different in terms of designs. These rakhis unlike mauli have a decked base with breads and other embellishments.
9. Lumba Rakhi- It is a special thread meant for women especially sister-in-laws. However, women of all ages can tie it on each other's hand. Traditionally, women in Marwari community tie a lumba rakhi on their bhabhi's wrist. It can be tied to the bangle as an accessory piece. The aesthetic appeal of rakhi is mind-blowing as it comes in stunning designs often in a conic or cone shape.
10. Sandalwood Rakhi- Yes, the rakhis which feature a base or beads made of sandalwood are called sandalwood or chandan rakhis. They can be found in any shape and design. The soothing fragrance of sandalwood makes this thread an auspicious one. Wearing it is said to calm one's mind and body.
11. Pearl Rakhi- These are made of pearls, hence the name pearl rakhis. The small or large size of pearls is decked along the center and edges which adds to its aesthetic appeal. It is found in both threaded to jeweled form.
12. Rakhi With Cards: When a rakhi thread is sent with card, it evokes emotions. You can make most out of this ceremonial occasion by sending rakhi with card. The design could be anything from threaded to jewelled and your brother would surely get impressed.
13. Diamond Rakhi- The sparkle of a diamond rakhi is sure to win every heart out there! You can get it in both real diamonds to fake diamonds. It depends truly on your budget which one you would like to choose. The diamonds come studded around the base and on the edges which enhance the look of the overall thread. It can be in any design as per one's likes and dislikes.
14. Rakhi Combo– When you have got a brother, just one rakhi isn't sufficient. This is where rakhi combo comes into play. A rakhi combo is something that combines both rakhi and goodies. Rakhi combo could be rakhi with chocolates, rakhi with flowers, rakhi with dry fruits and more. This is really a sweet gift to send to your brother though.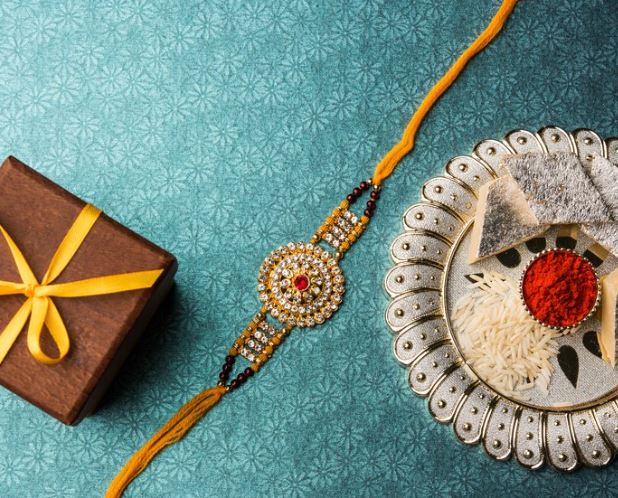 15. Zardosi Rakh- Zardosi rakhis are famous for their sparkling zari work. The metal thread thinner than even the hair strand are what moulded in various shapes which artisans put over a fluffy resham centerpiece perfectly. Sometimes the base of the thread is made of cardboard and other materials to provider extra support. The zari work is either in peacock shape or flower shape, which further attracts sisters to buy it instantly.
16. Swastika Rakhi- Swastika is a religious Hindu symbol that holds greater significance. It is related with Lord Ganesha. Come any auspicious occasion and this symbol is seen commonly. A rakhi in swastika shape is called swastika rakhi. It could be made of plastic or any other metal in the same shape. It can come in both simple to luxurious forms.
17. Kids Rakhi- Kids are the ones who wait for Raksha Bandhan festival impatiently. Come this celebration and they demand special threads for themselves. Kids rakhi is what fulfills their demand. You can find kids' rakhi in a variety of shapes from cartoon shapes to flower, animals and other shapes. Doreamon, Chhota Bheem, Krishna, Bal Ganehsa, Ben 10, Spiderman, Dora, Angry Bird, and many more are the most famous kids' rakhis.
18. Traditional Rakhi- As tha name suggests, it is the one which hasn't lost its traditional charm. A traditional thread is the one which has a plushy centerpiece, over its some colourful papers or plastics adorned beautifully.
19. Bhaiya Bhabhi Rakhi- Those whose brothers are married can rejoice the celebration of Raksha Bandhan with bhaiya bhabhi rakhi. It is the one set which comes with a regular rakhi and a lumba rakhi, one for brother and another for sister-in-law. You can find them in a variety of styles and in more than one set.
20. Stone Rakhi- Precious stones are quite famous amongst Indians owing to their lustrous sheen. A rakhi having been studded with these stones is called stone rakhi. The colour of the stones could vary from white to red, green, yellow, and more as per one's preferences. It also comes in a variety of designs.
21. Rudraksha Rakhi- Rudrakhsa is associated with Lord Shiva. It is said that Lord Shiva adorns himself with Rudraksha Jewellery. Rudraksha is actually the fruits of a special tree. It has greater religious significance. The one who wears is has calm mind, body and soul. Hence, if you want to make your brother feel truly calm with a calm soul, tie Rudraksha rakhi.           
22. Auspicious Rakhi- These are the special ones with religious significance. These rakhis are made of resham dhaga and other materials such as pearls, stones and zari altogether.
23. Jewelled Rakhi- These look like a piece of jewellery due to their elaborate and ornated look. These rakhis also work as a jewellery piece and can be worn for longer.     
24. Rakhi Sets- These are the ones that come in sets of two, three, five or more. The rakhi sets feature rakhis of different varieties. You can get it in case you have cousins and more brothers.
25. Set of 2 Rakhis- These are the two rakhis packed in one. The type of rakhi could be anything a chandan rakhi with pearl rakhi, a zardosi with cartoon, a stone rakhi with jeweled rakhi and more.  
26. Set of 3 Rakhi- These are three rakhis packed in one. Here the type could be anything and the styles also. You can buy it in case you have three brothers.
27. Set of 5 Rakhi- A set of five rakhis is packed in one. It is suitable for sisters who have five brothers.
28. Family Rakhi Set- If you want to get rakhis for the whole family including bhabhi and sisters, opt for family rakhi set. It features different types of rakhis all packed together.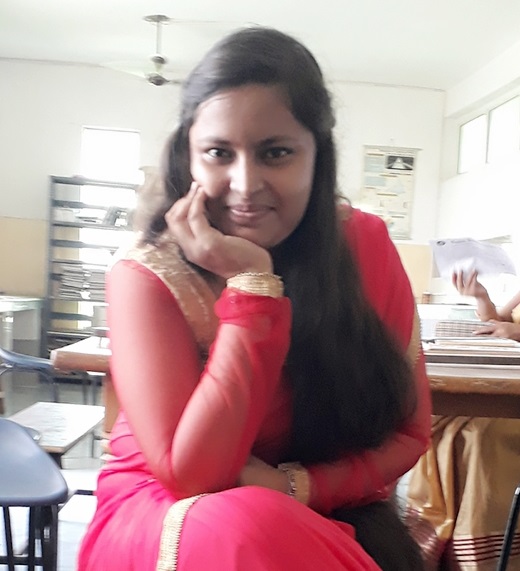 Bhawna Anand is a content writer and editor at Abmantra  with more than 5+ years of experience in different niche such as News, Education, Festival, Technology, Gifting, Ecommerce, Travel and many more industries. She has helped many businesses in growing user engagement and revenue via content creation.